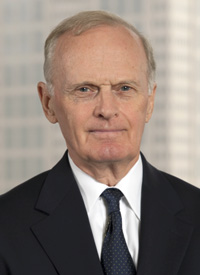 EDUCATION:
B.S., Physics, Western Illinois University, 1967
M.S., Physics, Kansas State University, 1969
J.D., The George Washington University, 1977
Thomas E. Hill
---
Thomas E. Hill is Of Counsel at Greer, Burns & Crain in Chicago and has over 30 years of experience practicing in the areas of patents, trademarks and copyrights.
Mr. Hill has been involved in various intellectual property disputes in federal and state courts, and has prepared and successfully prosecuted hundreds of patent and trademark applications in the U.S. and abroad.
His IP practice has also involved extensive counseling of a wide range of clients regarding the acquisition, protection and enforcement of intellectual property rights, as well as the avoidance of, and the response to, charges of third parties involving intellectual property.
Mr. Hill has extensive experience in the licensing of intellectual property rights and has served as an expert witness in both state and federal courts regarding IP disputes.
In the U.S. Patent and Trademark Office, Mr. Hill has been involved in patent reissues, appeals and reexaminations and has rendered numerous opinions regarding patentability, validity, infringement and enforceability.
Mr. Hill is registered to practice in Illinois and California.
Experience
Domestic and international patent prosecution
Domestic and international trademark prosecution
Intellectual Property Licensing
Patent counseling and opinions
Patent litigation
Bar Memberships
U.S. Court of Appeals for the Federal Circuit
U.S. District Court, Western District of Michigan
U.S. District Court, Northern District of Illinois
U.S. District Court, Central District of Illinois
Seventh Federal Circuit Court of Appeals
Supreme Court of Illinois
U.S. Patent and Trademark Office
Professional Associations
Intellectual Property Law Association of Chicago
American Intellectual Property Law Association
Example Technical Fields
Agricultural Machines and Equipment
Gasoline and Diesel Engines and Turbines
Electronic Circuits and Systems
Computers and Control Systems
Irrigation and Water Distribution Systems
Energy Devices such as Solar Cells, Batteries and Reactors
Scientific Devices
Telecommunications
Internet Applications and Business Methods
Semiconductors
Video Displays and Television Systems
Electro-Mechanical Devices
Machines and Mechanical Devices